Regular price
Sale price
$60.00 AUD
Unit price
per
Sale
Sold out
This gorgeous white tulle Maternity Robe is the perfect piece for your photoshoot
Our Isabella Lace Open Front Tulle maternity Robe has been tailored to fit a growing bump. It features lace details for a touch of elegance, and will give you a wonderful look for your maternity photos. This robe is made of pleasant-to-the-touch tulle and decorated with lace, along with a button front that can either be done up or worn open. 
Perfect for maternity photoshoots, this boudoir robe can be perfect for your first big reveal during your pregnancy.
Has been custom and handmade in Italy.
RRP $447
Measurements
AU sizing 6-16
Chest
106cm
Waist
89cm
Length
164cm
Photo Credits
Demi Tayla Photography
Postage

All orders are sent via Australia Express postage and include your pre-paid and pre-filled in return postage bag.

Whenever possible we send out all orders ahead of time. This does not affect your dates chosen, it is to ensure delivery of your gown in time.

Pre-paid return satchels must be returned back to your nearest post office by 3pm on advised date and a lodgement receipt obtained.Do not post back via a post box as this can cause severe delays. Failing to do this will incur additional fees.
How much is shipping?

Our express shipping service is a flat rate fee of $19.99 which includes your return pre-paid satchel for easy return process.

Any try-on postal services are me to be messaged through and postage is calculated on a weight basis.

When possible orders can sent ahead of time. This does not affect your dates chosen, it is to ensure delivery of your gown in time.
Do you offer Pick-up?

Local Pick-up is available from Somerville, Vic 3912 or Bentleigh East, Vic 3165. *Bentleigh East Pick-up has to be organised in advance. 
LOCAL PICK-UP IS AVAILABLE 7 DAYS A WEEK UP UNTIL 7PM FROM OUR SOMERVILLE LOCATION ONLY. ALL LAST MINUTE ORDERS WELCOME.
How quickly can my order be received?

All orders are dispatched via Australia Post express postal service which currently are being delivered the next business day. This is not always a guarantee as depends on your location. WA and NT can take longer 1-3 business days.

Last minute orders are always welcome and we will try our best to get it to you but is done at your own risk.

All orders are posted Monday-Friday when placed before 3pm. Same day dispatch is always offered. When possible
orders are sent ahead of time. This does not affect your dates chosen, it is to ensure delivery of your gown in time.

Local pick-up from our Somerville, Melbourne studio is available everyday until 7pm.
Security Bond Authorisation Charge

At Everything Lace Hire to secure your rental a Security Authorisation charge of $2 will be automatically added to your cart to secure your order. When placing your order all details are kept securely lodged . We will contact you again only in the event of any additional charges or enquiries. As long as the dress is returned with no damage, staining or late no additional fees will be incurred.

THE SECURITY BOND AUTHORISATION CHARGE OF $2 WILL AUTOMATICALLY BE ADDED TO YOUR CART.
My dress has arrived creased what can I do?

All our dresses are cleaned and steamed all dresses before sending. But creases may arise during the postal time. If you receive your dress with slight creases- please DO NOT IRON it, hang it in your bathroom running a hot shower and the steam will help remove creases.
Require the dress for longer?

You have found the perfect piece but need it for longer than the 4 day hire period? Not a problem send us through a MESSAGE to see if this is possible.
Getting our dresses wet and sandy

Our Ivy Beaded Robe and Athena Beaded Robe can be used at the beach but can not be used in the water due to the salt water breaking the beads down.

You can take our dresses to the beach and get them wet and sandy. After completing your session you are required to gently rinse the part of the gown that was in the water immediately after use in cold water, ring out as much water as possible and hang to dry. Please give it time to air dry before placing it in your return postal bag. Our dresses are never to be put into a dryer or be sent back wet.
Bushland, Farmland or a Forest Setting

When using are dresses in these setting you are to ensure that our dresses are not dragged across the floor when walking. All dresses must have the bottom carried when walking.
Returning Your Dress Hire

All dress hires must be sent back via post by 3pm on the final day of your rental agreement at your local post office. Local pick up and drop off have to be returned by 7pm on the agreed day.
Cleaning

No need to worry about cleaning, we've got you covered. Once our dresses are returned they are professionally cleaned to ensure they are kept to an extremely high standard and fully sanitised for every client.
My Dress has arrived early why?

We love to ensure your delivery does not hit any potential delays and you have time to ensure the correct underwear is available. So if your selected dress is available earlier than your selected start date, we will send out a few days early.
I would like to extend my current hire. Is this possible?

Please contact us at everythinglacehire@gmail.com letting us know your required extension dates and we will email back if it is available and price.
What if I accidently damage the dress?

We understand that accidents happen and can happen. If you damage a dress in any way please contact us immediately everythinglacehire@gmail.com letting us know the damage.

If the dress is not repairable, you will be charged the replacement value of the dress at the RRP
BACK UP Dress

We like to make the selection process for your maternity dress easier for you by offering our back up dress service where we allow you to pick a second dress at a discount rate incase the first is not perfect. Only one dress is to be worn but you can upgrade on delivery if you love both.
View full details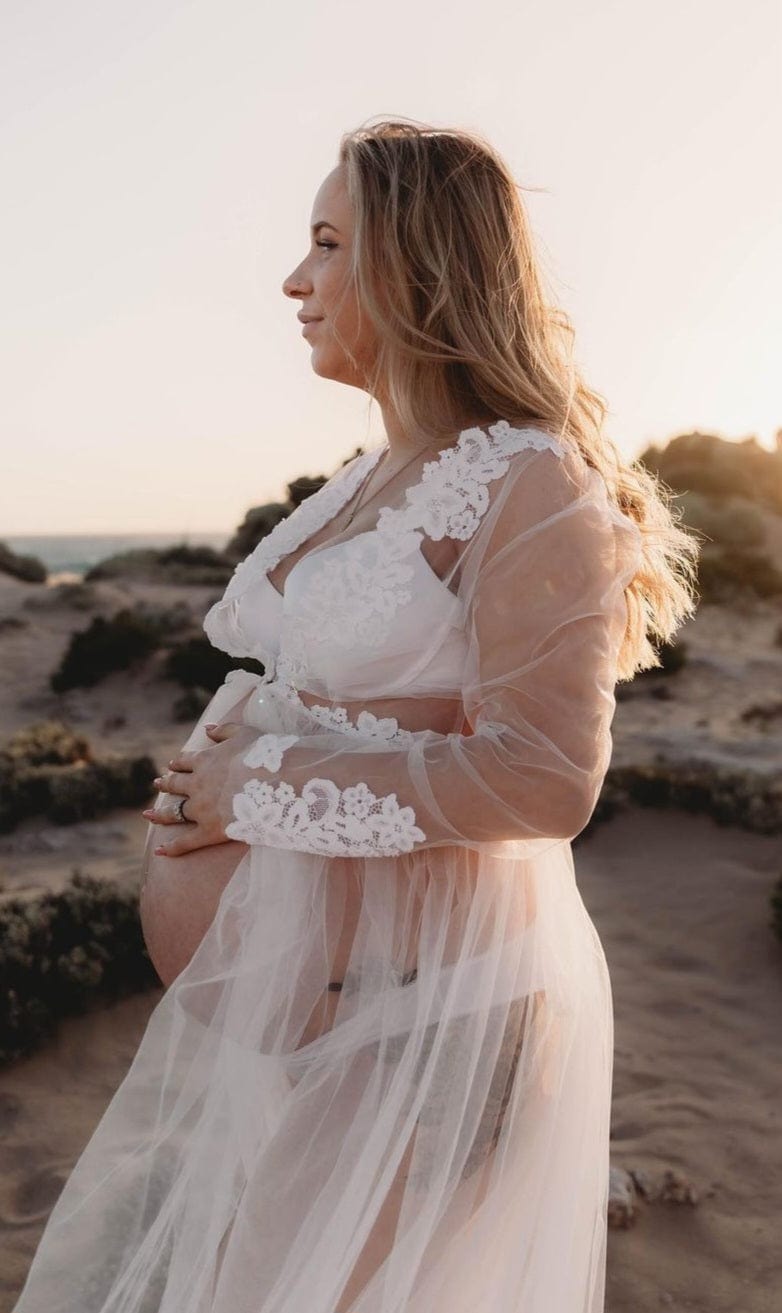 AMAZING
I am so grateful I stumbled across this website with my upcoming maternity pictures booked I was getting more and more frustrated not being able to find anything. Chloe booked me in for a try-on and her studio is so adorable I was allowed the freedom to try on and choose the perfect gown without being pushed into something, she made everything absolutely perfect and I felt amazing during the shoot. To the smallest details of packaging it up and putting so much love into it.
Without a doubt I would definitely recommend her to everyone and can't wait to book some family pictures so I can go back. Thank you, thank you, thank you.